I want to be your courtesan, your confidant, your lover. Let's embark on a romantic journey together, making slow sensuous love. I need a man to fan the flames of my raw deep passion. I'm 5'6 with long dark hair, flashing green eyes and I keep my body well-toned. My tastes in men are varied; I adore younger men who share my love of romance. I'm greatly attracted to older men who want to charm me, win me over with their finesse, offering long languid love-making with much oral attention. I paint a picture so real you will feel my lips and tongue brushing against your ear as I speak You will feel the tantalizing scratch as my fingernails slide gently (or not so gently) over your body. You will experience my taut muscles massaging and squeezing your body in ways you've never imagined. Should you crave another kinky twist to our phone sex call (bringing fantasy and reality that much closer!) and you have a web cam, I would LOVE to watch you and guide you as we speak together. (I don't have a web cam myself). Call me for the deepest, most erotic sexual fantasy you've ever experienced. My sultry voice will stay in your mind and cause your heart to beat faster when you think of me. Beware (for those faint of heart), I am intoxicating and Extremely Addictive. My lips are waiting to be kissed.
Call me, Lover.
877-825-2782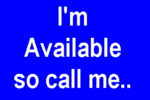 ---
Calls are $2 per minute with a 10 minute minimum. Discreetly charged to your major credit card. If you do not have a credit card you can buy a prepaid gift card: Visa, MasterCard, Discover, or American Express at your local drug or grocery store.
Got something special in mind or want to set up a time to call email me at
kaptivatingkathleen2@yahoo.com
Fragrant, worn panties available for purchase, Lover!

---